Today's U.S. Military bases in Okinawa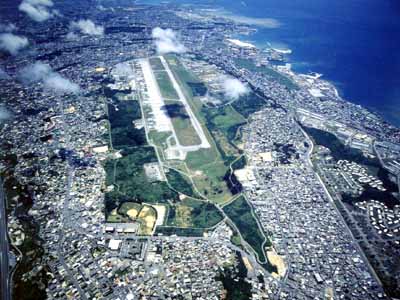 I. Outline
...
1.
number of facilities
............................... 38 (as of Mar. 1999)

...
2.

total area of facilities
............................... 23,759 ha (as of Mar. 1999)

...
3.
number of military and related civilian
personnel along with their families
............................... 50,336 persons (as of Sept. 1998)

II.

Characteristics of U.S. Military Bases on Okinawa

1.Huge and Highly Concentratad Bases

Military bases occupy approximately 10.7% of prefectural land.
On main Okinawa Island, the U.S. military bases occupy approximately 19.3% of the land.



.....

2.
High Concentration of U.S. Military Installations and the Excessive
Burden of the U.S. - Japan Mutual Cooperation and Security Treaty

Roughly 25% of all facilities used by U.S. Forces Japan are located in this
cramped prefecture, which comprises only 0.6% of Japan's total land area.
In addition, approximately 75% of the total land area exclusively used by U.S.
Forces in Japan is located in Okinawa.


In Okinawa :
Approx. 33% of the military bases are on private land.
Approx. 34% of the military bases are on national land.
Approx. 30% of the military bases are on municipally-owned land.
Approx. 3% of the military bases are on prefectural land.


In central Okinawa, where most of the military facilities are concentrated, 76%
of the land used by the U.S. military is private land.
Cooperation from private landowners is essential for effective conversion of the
military land to civilian use.
| | |
| --- | --- |
| | |
III.
Social and Economic Impact of U.S. Military Bases


1.
Bases Hinder Local Industrial and Commercial Development


1.
Facilities that hinder the sound urban development:
2.
Facilities that hinder the industrial promotion:
3.
Facilities that hinder the expansion of transportation and communication systems:


2.
Impact on the Local residents: Incessant Exercises, and Countless Problems even after the Reversion


1.
The reoccurrence of accidents during military exercises over the past twenty-six years after Okinawa's reversion to Japan in 1972
(Updated up to the end of September 1999)

aircraft accidents
....................136 (38 are aircraft crashes)
brush fires
....................172 (area burned: approx. 1,782 ha)


2.
Aircraft noise (around Kadena Air Base and Futenma Air Station)

Furthermore, a fiscal 1997 survey showed that noise-levels exceeded the Japanese environmental standards at 10 out of 13 spots tested near Kadena Air Base and at 6 out of 9 spots tested in the vicinity of Futenma Air Station.

3.
Live-fire artillery training over Prefectural Route 104

Live-fire artillery training closed down Prefectural Route 104. Since the training area is close to neighboring homes and schools, the exercises had continuously posed a danger.
In the December 1996 Final Report of the "Special Action Committee on Okinawa (SACO) " an agreement was reached to relocate the live-fire artillery training in Okinawa to mainland Japan within FY97. In June of that year, the Japanese and U.S. governments agreed on the mainland training schedule for artillery exercises at the U.S.-Japan Joint Committee.
The first live-fire artillery training was conducted at Kitafuji Training Area in July 1997. With the commencement of this training on mainland Japan, it ended such training on Okinawa.

.....Relocation sites:

Kitafuji(Yamanashi Prefecture)
Higashifuji (Shizuoka Prefecture)
Hijudai (Oita Prefecture)
Ojojibara (Miyagi Prefecture)
Yausubetsu (Hokkaido)

Since 1973, when training began over Route 104, until March of 1997, this training was conducted 180 times on Okinawa.

4.
Parachute drop training exercises at Yomitan Auxiliary Airfield

There have been a number of incidents where parachutists and military supplies have damaged nearby civilian property. During a parachute exercise in 1965, a military trailer fell on a home in Zakimi, killing a child.


In May 1995, the U.S. - Japan Joint Committee agreed that parachute drop training would be moved to Camp Hansen. However, the plan was due to strong opposition from the local community near Camp Hansen. Then in December 1996, the relocation of the parachute training to Ie Jima Auxiliary Airfield was announced in the Final Report of SACO.


At this time, the parachute training at Yomitan Auxiliary Airfield is not being conducted but this training has yet to be moved to Ie Jima due to various reasons including the strong opposition from the local community.

5.
Port calls by nuclear submarines (White Beach Area)

Nuclear submarines made 18 port calls to Okinawa in 1994, exceeding all past records. In 1998, nuclear submarines made 8 port calls to Okinawa.


6.
Crimes committed by U.S. military and related civilian personnel, and their dependents

As of December 1998, there have been 4,905 crime committed by U.S. service personnel, its civilian employees, or their dependents since the Reversion of Okinawa to Japan in 1972. The crimes and accidents that emanate from the military bases never seem to cease.

7.
Environmental pollution caused by red soil erosion and oil spills from military bases

At Camp Hansen, live firing exercises have caused red soil erosion at the targeted mountain, leading to the pollution of the nearby body of water, Kin Bay.


Leakage of raw sewage and oil materials from treatment facilities have been responsible for the pollution of rivers and other nearby bodies of water.


At Onna Communication Site, which was returned in 1995, contaminated toxic substances, such as PCBs and mercury exceeding the accepted environmental pollution limit, were detected in the dirt left inside the purification tanks. Because it took over two years to cleanup the contamination, the reutilization plans for this facility have been delayed.

3.

Prefectural Economic Dependency on Military Bases
fiscal 1996

Expenditure of military personnel & civilian employees

50.5 billion

Income of Okinawan employees on base

52.8 billion

Rent for land occupied by military facilities

70.4 billion

Income from military-related transactionsTotal

173.7 billion
(total)

Economic dependency on bases
(Percentage of gross prefectural expenditure)

4.9 %

Number of Okinawan employees on bases

8,443
(May 1972)
(as of March 1998)




IV.

The Return of Military Land



1.
Slow Rate of Progress

Percentage of land returned so far totals only 17.1%.


May 1972: 87 facilities/areas 28,661 ha
------------
Mar.1999: 38facilities/areas 23,759 ha


Percentage of returned facilities used exclusively by the U.S.
military (land area) Okinawa Prefecture
May 1972 27,850 ha
-----
Mar. 1999 23,759 ha

2.
Reduction and realignment of U.S. military bases to reflect the will of the prefectural citizens


V.
SACO


1.
The Central Government's Response (SACO Final Report)

In November 1995, the Japanese and the U.S. governments co-established the Special Action Committee on Okinawa (SACO) under the auspices of the U.S. - Japan Security Consultative Committee (SCC) to discuss the efficient reduction, consolidation, and realignment of U.S. military bases in Okinawa. At the SCC on December 2, 1996, the findings from studies done to date were reported in the SACO Final Report. The following is an outline of the report:


Fundamental Points
1.The impact caused by U.S. military activities in Okinawa shall be reduced, while fully maintaining the capabilities and readiness of U.S. Forces Japan.

2.Approximately 21% (approx. 5,002 ha) of the total acreage of U.S. facilities and areas in Okinawa (excluding jointly used facilities) shall be returned.

3.When in the implementation phase, coordination of specific conditions for the completion of each item of SACO shall be addressed at the U.S. - Japan Joint Committee.

4.The SCC instructed the Security Sub-Committee to work on Okinawa's problems as one of its main concerns and also to submit its report regularly to the SCC.


Return of Land
Name of Facility area of land (ha)



1.Futenma Air Station *......................................
2.Northern Training Area ....................................
3.Aha Training Area (joint use)............................
4.Ginbaru Training Area *....................................
5.Sobe Communications Site *...........................
6.Yomitan Auxiliary Airfield *..............................
7.Camp Kuwae *...............................................
8.Senaha Communications Station *....................
9.Makiminato Service Area..................................
10.Naha Port *..................................................
11.Housing consolidation of Camp Zukeran..........

481
3,987
480
60
53
191
99
61
3
57
83


*conditional on its relocation



Adjustment of Training and Operational Procedures

1.Live fire artillery training over Prefectural Route 104 shall be terminated once the training is relocated to a maneuver area on mainland Japan within fiscal 1997.

2.Parachute drop training shall be relocated to Ie Jima Auxiliary Airfield.

3.Marching drills on public roads have already been terminated.