Misawa troops recalled to hear talks on alcohol abuse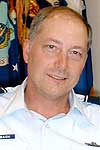 Utterback
MISAWA AIR BASE, Japan - Misawa's monthly readiness run on Friday morning took a new path. It never happened.
Instead, Air Force troops and some assigned to the base's associate units were recalled to duty sections around 6:30 a.m. to listen to talks about drinking and driving.
Brig. Gen. Chip Utterback, Misawa's 35th Fighter Wing commander, said he ordered the recall because of an increase in driving under the influence and driving while intoxicated apprehensions here this year.
Last weekend's alleged theft of a Japanese-owned car by a Misawa airman also had Utterback's attention.
"I want to create an awareness and get out in front of this because there have been a lot of incidents down south (in Okinawa), and here that have gotten worldwide attention," he said. "We're being proactive, not reactive."
In a weekly televised Commander's Update spot on Misawa's American Forces Network, Utterback spoke of 24 DUI/DWIs logged by police here since the beginning of this year.
"Our number is a little bit higher than in past years, and they have the potential to reach the highest they have ever been," he said. "I say we don't have a problem … [but] any time you have a DUI, you have a problem."
During 1998, the base logged 32 DUI/DWI cases. In 1999, it totaled 24, while last year 26 cases were tallied.
Misawa logs all instances of DUIs and DWIs together whether committed by military, Defense Department civilians or family members.
Units that had the most recent DUI/DWI incidents are listed on the front page scoreboard in Misawa's base newspaper. Statistics are also posted on a sign at the base's main gate.
Utterback said one reason DUI and DWI numbers have risen is because of stepped-up enforcement.
"We're out looking very hard for those who get behind the wheel of a car and drive drunk," he said. "We focus on checkpoints, and the right times to look for them."
There are several alcohol intervention and deterrence programs in place here, Utterback said, and they have reduced instances of DUI/DWIs by patrons of base officer and enlisted clubs to zero for most of this year.
"It's mostly people coming in the front gate, and those that drink at home [then drive] that we are catching," he added. "If they are caught, there's going to be a high price to pay."
Statistics show the average age of offenders is 20, a high percentage of them at the pay grade of E-3, the general said.
"Youth has a great deal to do with the problem, but youth translates to responsibility and learning their way around," said Utterback.
Utterback said alcohol was involved in last week's car theft incident, and he is concerned how that plays in Misawa's off-base community.
"I talk to the mayor, and I ask him to work as a team to make sure our folks act responsibly off-base," he said.
Next week the city's police chief and merchants are scheduled to meet with base officials for a semi-annual community relations advisory council meeting.
"It always helps to talk to the community," Utterback said. "They are aware of our concerns regarding underage drinking, and we will reassert our commitment that underage drinkers not be served off-base."