Cancer remission by RNA-binding protein knockdown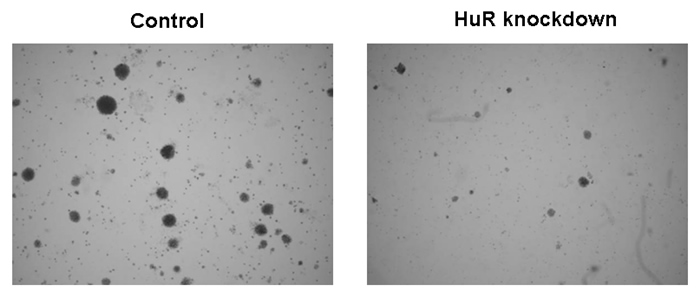 Effect of HuR knockdown on growth of oral cancer cells.
HuR-knockdown oral cancer cells (right) were subjected to a soft-agar colony formation assay.
The number of colonies were reduced in the HuR-knockdown cells compared to that of the control cells (left).
A team led by Associate Prof. Fumihiro Higashino of the Graduate School of Dental Medicine elucidated that knockdown of the RNA-binding protein HuR changes the oncogenic properties of cancer cells, thereby attenuating their proliferation and invasion activities.
Elevated expression of HuR is seen in a variety of human cancers, and the protein is considered to help stabilize mRNA transcribed from genes that promote cell proliferation and contribute to the carcinogenesis of cells. Associate Prof. Higashino and other researchers found that knockdown of HuR suppresses the proliferation and invasion of oral cancer cells. This method has raised hopes for the development of new cancer treatments.
The results of this study were first reported in Molecular Cancer Research Online on March 23, 2010, and will also be reported in the April issue of Molecular Cancer Research.
http://mcr.aacrjournals.org/
Contact information:
Associate Prof. Fumihiro Higashino
Graduate School of Dental Medicine, Hokkaido University
E-mail: fhigashi@den.hokudai.ac.jp
Magazine:
Molecular Cancer Research Online