French Horn
Contents :
The early types of horns were made from crude animal horns. The small end was cut off so air could be blown through. Later horns were made from wood or metal.
Horns were used for the military, hunting, and signaling arrivals in early English times. They were made larger in the 16th century for a larger range of notes. The shape was either a circle or semicircle for easier carrying.
The 17th century brought modifications in the bell. It was greatly widened out and increased in size. It was called the cor de chasse, or French horn by the English.
The instrument was originally held with the bell pointing up. The first to hold it facing down was the Germans.
Hampel, a Dresden musician, invented the means of applying movable slides of various length in 1753. This was done to change the key of the instrument. Seven years later it was discovered that placing the hand in the bell lowered the tone. This was called stopping.
Keys were placed on the bell to change pitch. Eventually these were changed to valves.
The French horn has 12 feet 4.5 inches of tubing wrapped around to be compact. It has three valves and a conical bore.
The modern orchestral French horn is actually a combination of two. It is called the double horn in F and B flat. The wide bore of the single horn in F made the higher notes difficult to play. This is remedied by depressing a thumb valve to incorporate the B flat horn.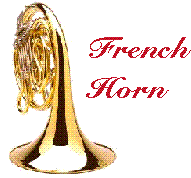 Sound is produced by the player holding his lips tightly against a specially shaped mouthpiece. The lips vibrate when air is forced through them. This sets the air column in motion. The brass tube acts as a resonator.
The placing of the hand in the bell helps to support the horn. The sound can be refined by changing the hand position. Imperfections in intonation can also be checked this way. The hand can also alter the note's pitch to mute it.
The notes are produced by changing the length of the tube. This is accomplished through the use of valves. A valve at rest has air passing directly through it. A depressed valve causes the air to divert through extra tubing. This lengthens the air column.