Tuba
Contents :
The most ancient type of tuba was a Roman buccina used as an infantry bugle. It had a spiral form.
The Anglo-Saxons had a long horn that rested on the ground. This produced a very low sound.
There were attempts to construct a genuine bass instrument during the Middle Ages. It was the bass of the cornett, or serpent, family. It had six finger holes. The instrument was made of wood covered with leather. It had a straight end.
A modification of the serpent called the bass horn was developed in the end of the 18th century. It was more portable because the tubes were parallel.
An all metal bass was produced in the 19th century. It was like the bass horn and was called the ophiclide.
Adolphe Sax improved the brass instruments. He made a family of instruments called saxhorns by 1845. The deepest became known as the tuba in orchestras. It also had three valves.
Phasey, a Guardsman, further improved the tuba in the 1870's. He widened the bore and changed other aspects. It became known as the bombardon, or tuba.
The tuba, or bass tuba, has 13 feet 9 inches of tubing wrapped in the body. It has three valves and has a wide conical bore and a flared bell. It is usually played standing upright. It can also be played with the bell facing forward for recordings.
The tuba is the bass instrument of the brass. It is used in the orchestra to reinforce the harmony. It produces a full, rich and powerful tone.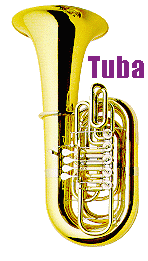 Sound is produced by the player holding his lips tightly against a specially shaped mouthpiece. The lips vibrate when air is forced through them. This sets the air column in motion. The brass tube acts as a resonator.
The notes are produced by changing the length of the tube. This is accomplished through the use of valves. A valve at rest has air passing directly through it. A depressed valve causes the air to divert through extra tubing. This lengthens the air column.