Villa di Maser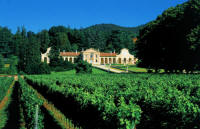 The Villa was built between 1550 and 1560 by Andrea Palladio for Daniele Barbaro, Patriarch of Aquileia, and his brother Marcantonio Ambassador of the Venetian Republic, transforming the medieval palace of Maser into a splendid country residence, masterpiece of the Venetian Reneissance. Paolo Veronese decorated the Villa with his vastest and most important cycle of frescoes, while
Alessandro Vittoria, brilliant pupil of Sansovino, cured the stuccos. The Villa passed by marriage from the Barbaro to the Trevisan, to the Basadonna, finally to the family of Ludovico Manin, the last Doge of Venice. In 1838, the Manin sold it to Gian Battista Colferai, who had been renting it as a country residence, but his daughters, suspicious of each other, not wanting to invest in a propriety individed within the family, let the Villa go into complete ruin. In 1850 the industrialist Sante Giacomelli bought it and completely restored and renovated it, with the assistance of artists like Zanotti and Moretto Larese. In 1934 Carlo Giacomelli sold it to Giuseppe Volpi di Misurata, and the Villa became the home of his daughter Marina who continued with immense care and love the works of restoration throughout the years. Her daughter now lives in it with her family.
"CANTINA" Cellar - Villa di Maser
THE HYSTORICAL WINERY



"…on one side and on the other are porches… and beneath those are places to make the wines, and the stables and the other places of use to the Villa".
Thus Andrea Palladio described the life at Villa di Maser, in his "Four books of architecture"
Since then the wine tradition has always been held in great regard at the Villa di Maser.
The owners themselves considered the precious fruit of the winery even in their will: "I want that two casks of wine are given every year to Mme. Marietta da Canal dearest sister of mine as long as she lives, as has always been custom until now" (Marcantonio Barbaro 1579). The present Winery adjacent to the Villa was built in 1850 by the owner of the Villa at the times Sante Giacomelli. It is organized on three levels. Storage on the first floor, wine making on the ground floor, ageing underground. In the winery are processed exclusively grapes grown in the 35 hectares of vineyard that surround the Villa, registered in the D.O.C. "Montello e Colli Asolani", located on the hillside, optimally exposed to south and south-east. The soil is limestone-moraine, rich in skeleton, ideal for the growth of vines that are currently trained in Guyot and produce few grapes per plant.