Oral history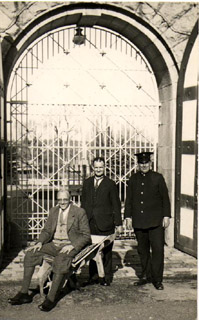 The barrowmen outside the gates of the Beechworth gaol, with a warder.
The Beechworth Oral History Project was started in early 2000, to record the stories of the people of Beechworth during the Twentieth Century. It was planned that these stories would be kept by the Burke Memorial Museum to preserve the history of the people and the town and be linked to the Museum's collections.
Read extracts from interviews:
Ray Stone, who witnessed the wheelbarrow race from Beechworth to Buffalo in 1935.
Allen Parkinson, the nephew of one of the original barrowmen, who re-enacted the famous race in 1963.

The interviews are in pdf format. To view and print them you will need to have the free Acrobat Reader installed on your machine. Download Acrobat Reader.
Oral History Project Acknowledgements
Friends of the Burke Museum
Staff of the Burke Museum
Funded by: Local History Grants Program, Arts Victoria Community Support Fund, Victoria