The race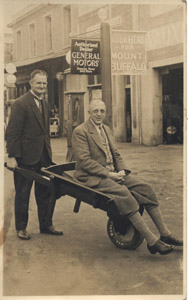 The barrowmen outside Parkinson's Garage on Ford St, Beechworth.
Much excitement had been generated in the lead-up to the race. On the day of the start, two thousand people surrounded the barrowmen in front of the Beechworth Post Office. A mounted policemen had to ride ahead to part the crowd for Parkinson and Evans as they set off, the barrow still dripping with the champagne used to christen it 'The Pride of Beechworth'.
The daunting prospect of the challenge and the subsequent hours of physical strain as Parkinson pushed the barrow and its thirteen stone burden through rain, mud, sleet and snow over eight gruelling days, captured the imagination of hundreds of thousands of Australians. As each day of the contest passed, public enthusiasm grew, until at the end of the marathon, interest had spread beyond Australia to overseas.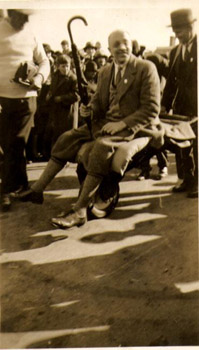 Parkinson and Evans on the road, surrounded by admiring crowds.
Over the succeeding days, Parkinson had difficulty keeping to the planned schedule. He developed blisters and sore shins and the doctors were called. Parkinson refused to call off the bet and insisted on continuing.
Parkinson was getting plenty of encouragement; crowds lined the roads, school children were let out of classes to give a cheer as they passed and motorists made the drive out from nearby towns to catch a glimpse of the Beechworth pair.
Hospitality abounded. The barrowmen were bombarded with more social invitations than they could possibly accept, but they managed to attend a succession of official receptions and dances, and 'Parky' danced, in spite of his bandages.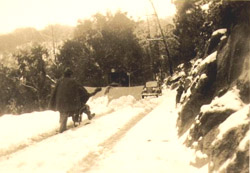 The snow-covered road on Mount Buffalo.
When the barrowmen reached Mount Buffalo, the snow started to fall. Evans froze on the barrow and suffered the agony of cramps, while Parkinson slithered and fell countless times in the snow drifts. A snow plough was brought in to clear the track, but nontheless the grade was so steep that stops had to be made every twenty yards for Parkinson to rest.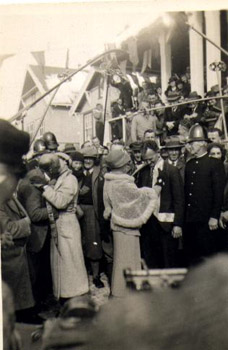 The barrowmen at Mt Buffalo Chalet.
A tremendous crowd assembled at the Mt. Buffalo Chalet on the final day to see if 'Parky' could reach the finishing line in time. Representatives of all the metropolitan newspapers were there, the ABC and newsreel cameras.
History records that on the 22nd of June 1935 at 12.30pm Parkinson and Evans crossed the finishing line with just half an hour to spare. Parkinson's first act on crossing the line was to tip Evans out of the barrow into the snow.
The official welcome to the barrowmen was broadcast all over Australia from the balcony of the chalet. The following week Parkinson, Evans and The Pride of Beechworth made celebrity appearances at the Princess Theatre in Melbourne, while the band played 'Shuffle off to Buffalo'.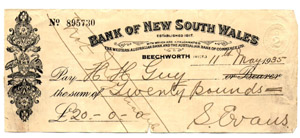 The cheque for twenty pounds.
On the last Friday night of the engagement, the bet was ceremonially paid. The cheques were never cashed and now reside at the Burke Museum.