Knight to Knight-Ridd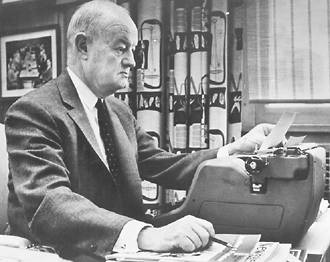 John S. Knight, who said that "a typewriter means more to a newspaper than an adding machine." (Photo by Tony Spina.)
In May, 1940, John S. Knight bought the Free Press from 81-year-old E.D. Stair, and for the first time, the Free Press came under group ownership.
What would that mean to Free Press independence?
Knight, who owned newspapers in Akron and Ohio, spelled things out in his first Free Press editorial: "We do not operate in the interests of any class, group, faction or political party ... we are ourselves free and our paper shall be free ... free to truth, good manners and good sense ... we shall be for whatever measure is best adapted to defending the rights and liberties of the people and advancing useful knowledge."
In 1951, Lee Hills arrived from the Miami Herald to become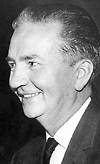 executive editor and later publisher of the Free Press. Under Hills, the Free Press grew in size and in prestige. Hills, himself, won a Pulitzer Prize in 1956 for his stories about intense negotiations between the United Autoworkers Union, Ford and General Motors.
Ever since its founding 120 years before Hills arrived, the Free Press had been part of a wide-open newspaper town where publications were born, bought, folded and combined in close competition. The Free Press had survived longer than all of them, and was closing in on its greatest rival, the Detroit News, when Hill arrived.
Under Hills' leadership, the Free Press overtook the News -- but only for a few months. That year, the News bought the third player in Detroit's newspaper war, the Hearst-owned Detroit Times. The News kept the Times' plant, equipment and, most importantly, its circulation list, but shut the paper. The move put the News on top once again, and the Free Press resumed its climb after the News' circulation lead. That set the stage for an even greater battle that would pit the two largest newspaper companies in America against each other.
The first army to enter that contest was assembled in 1974, when Knight Newspapers Inc. merged with Ridder Publications Inc. to form Knight Ridder, Inc. in the largest newspaper company merger to date.
An even bigger player was to emerge. And it would be led by one of Hills' lieutenants: Allen Neuharth.