The Storey era
In 1853, Wilbur F. Storey took over as owner and editor and the Free Press entered a new era of prosperity and progress.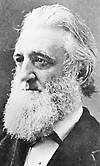 Storey, a fire-brand editor and a fierce anti-abolitionist, introduced a series of newspaper firsts that took the Free Press from a local paper to one that innovated for the nation.
Storey was a newsman. He expanded telegraph and correspondent services to cover events all over the country. He placed increased emphasis on local news and created a "city" staff to cover Detroit events. He assigned one reporter to walk the length of the waterfront each day and get the latest shipping news, thus creating the first reporting "beat." Storey also raised religion reporting to new standards and prominence. The Free Press also was one of the first newspapers to publish court testimony.
During his first year with the Free Press, Storey made the Free Press the first newspaper in the nation to publish a regular Sunday edition. Joseph Pulitzer, sometimes credited with publishing the first Sunday paper at the New York World, didn't do it on Sunday until 1883.
A new home followed in 1860 at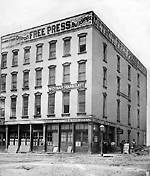 Griswold and Woodbridge, and lasted for a quarter century.
With the outbreak of the Civil War, Storey sent correspondents to the battlefields to give readers full and factual accounts of the action. The Free Press was known as an authority on happenings at the front and in Washington.
The Civil War changed newspaper reading habits across the nation. People demanded news of the latest battles and campaigns. Many came to rely on their daily Free Press for complete war coverage.
Early in the war, a group of newspapermen gathered at the Detroit Free Press to form the Western Associated Press, which subsequently merged with the New York Associated Press, now the world's largest news-gathering agency.
And Storey? Discontent to sit still for too long, he moved westward, to the Chicago Times, where he continued in his innovative and fiery style, declaring in 1861, "It is a newspaper's duty to print the news and raise hell."