The Quinby yea
The Free Press continued to grow under William E. Quinby's editorship. The paper achieved an international reputation in 1881 when Quinby began the London edition of the Detroit Free Press, the first American newspaper published in the Old World. It sold more than 90,000 copies a week -- huge circulation for those times. Its offices in 1891 are shown at right.
Quinby expanded the paper, adding a staff of feature writers -- both humorous and serious. He popularized the Free Press by hiring outstanding talent, well-known journalists such as Charles Lewis as "M. Quad;" Robert Barr as "Luke Sharp;" drama critic George Goodale; and Edgar A. Guest, "the People's Poet." Quinby also hired a Washington writer to submit a regular column of news from the capital. He was the first Washington columnist to appear in any Detroit newspaper and marked the beginning of the Washington Bureau.
As an editor, Quinby recognized the readership potential among women. In 1878 he published "The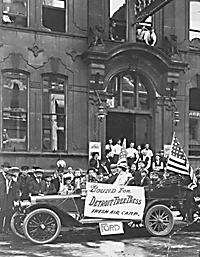 Household," the first newspaper supplement for women, and a forerunner of today's The Way We Live section. In keeping with the times, this section now aims at the entire family, but continues to have strong readership among women.
The Free Press survived another disastrous fore in 1878, and, in 1884, moved again, this time to a five-story structure at West Larned and Shelby.
The Free Press published there for 10 years, and then moved in 1894 to the Abstract Building on Lafayette Boulevard near Griswold.
Competition in the Detroit newspaper business continued to be fierce. Quinby's toughest rivals were the Post and the Tribune, but he found a financial boost in 1873 by agreeing to print on his presses a newcomer, James Scripps' Evening News. There was no way he could have known that he was giving a hand to what would become the Free Press' greatest newspaper rival ever.