Performing arts
Performing arts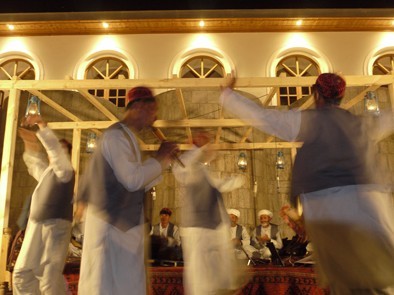 The principal and most accessible of the performing arts for Afghans are music, song and dance, which are common during weddings and local or national festivals. The playing of musical instruments or performance of songs or dances are usually undertaken spontaneously in rural settings, with host or guests participating. However, it is more common for professional musicians (who are customarily accorded a low social standing) to be engaged for urban events. This has ensured a livelihood for urban singers, musicians or bands and, in some cases, has enabled them to reach larger audiences through broadcasts on radio and television. Aside from the
attan
- a dance performed by men which, although traditionally practised by Pashtuns in the south and east, has been used by successive governments as a symbol of 'national Afghan culture' - dance is more associated with life-cycle events than with professional performance
per se
. Furthermore it is always segregated. In response to the need for public performances of
attan
, some 'professional' groups have been formed.
While there is a tradition in some parts of the country of public story-telling, and what might be termed 'street theatre', performances of theatre in its modern form have been largely restricted to urban centres. Since the time of the Soviet occupation, visiting theatre troupes have performed in the context of official events, and this notion of partnership with international actors continues to be vital for the few Afghan theatre groups that exist.
Read more about the performing arts in Afghanistan by selecting one of the art forms listed in the left margin or use the navigation bar on the right to make direct contact with organisations and individuals working in the performing arts sector.