Tourism
Tourism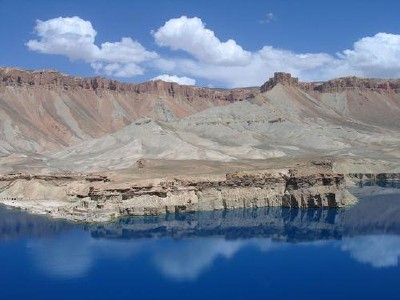 A land of stark beauty and rich heritage, Afghanistan has enormous potential for tourism of many types. The aim of the
Afghanistan National Development Strategy (ANDS) for 2007/8-2012/3
is for the
Ministry of Information and Culture
to define and implement a 'reasonable, realistic and voluntarist policy for tourism' (p 2). This includes support for Afghan traditional handicraft and the development of a tourism infrastructure that 'must not come at the expense of the heritage assets at the heart of the industry; historic cities, buildings, monuments, archaeological sites etc, etc' (Ibid).
Although expeditions into the Afghan hinterland have exercised a fascination over foreign visitors since the 19th century, organised foreign tourism did not develop significantly until the 1950s. In 1958 the
Afghan Tourism Organisation
was established by the government to facilitate travel and ensure standards. During the 1960s, Afghanistan was an important stop on the 'hippy trail' from Europe to India. Afghanistan joined the
World Tourism Organisation (WTO)
in 1965 and two years later a successful '1967 Afghanistan Year of Tourism' campaign also helped to attract more affluent travellers.
By the 1970s, tourism was one of Afghanistan's biggest foreign currency earners, with an estimates 100,000 visitors in 1977, according to the Afghan Tourism Organisation which reportedly brought in over US$17 million in revenue. At this time, tourism was managed by the
Afghan Tourism Organisation
, which ran guest houses, provided transport, organised tour packages for visiting groups and employed nearly 300 translators and tour guides.
'The ATO has maps of Afghanistan, Kabul and Bamiyan as well as a number of books, pamphlets and guides. They can provide information on places of interest, and are said to have both English and French-speaking guides who can conduct sightseeing in and around Kabul and elsewhere in the country. They can also arrange transfers from the airport to hotels or anywhere in the city or can also arrange transfers to the Torkham border or Peshawar. If requested, the organisation will also make hotel reservations for you. Comfortable cars and coaches are always available on request.'
Afghanistan brochure printed by the Afghan Tourist Organisation (ATO) in 1973
Tourism development since 2001
With the growth in the number of commercial flights to Kabul after 2001, a number of foreign travel organisations have developed itineraries for adventurous travellers.
While the
Afghan Tourism Organisation
has been re-established, and continues to promote tourism in the country, it is now also responsible for the regulation of private sector operators, through registration and supervision. To date it has registered some 170 private tour companies and around 80 private guest houses.
While records are kept of numbers of international visitors arriving at the various border crossings, these figures are retained by the Ministry of Interior. According to the
Afghan Tourism Organisation
, Afghanistan has seen between 3,000 and 4,000 tourists per year since 2001, mostly from neighbouring countries (Iran, Turkmenistan, Pakistan, India, China), with smaller numbers of visitors from Japan, the USA, Canada, the UK, Australia and Europe.
Domestic tourism is equally difficult to quantify because Afghans tend to take their own transport when travelling for leisure and generally stay with relatives. The most important time of year for domestic tourism is Naw Roz, with Mazar-e-Sharif the most popular destination for the festivities.
Although deteriorating security has probably had an impact on recent numbers,
Afghan Logistics and Tours, Kabul
reports that it provided services for some 70-80 individual travellers and five or six groups in 2005-2006, most of whom originated in the United Kingdom or the USA.
In 2006 with assistance from the Asian Development Bank (ADB) a Draft National Tourist Strategy was prepared. Agreed priorities include improved security and mine clearance, rehabilitation of the national road network, upgrading of regional airports, construction of more international-standard hotels and guest houses, protection and preservation of cultural and environmental assets and promotion of traditional handicrafts. The future demand for a body of professional tour guides with knowledge in the fields of natural and cultural heritage and a range of different language skills will also need to be met through the establishment of a tourism and hospitality Industry curriculum for Afghanistan's universities.
The two provinces that were identified in the strategy to have potential for tourism are Bamyian and Badakhshan. When the lakes of Band-e-Amir in Bamiyan became Afghanistan's first National Park in 2008, the country's first ecotourism programme was launched with the aim of developing sustainable tourism in the area, while providing employment as a means of reducing poverty. Situated in the north eastern province of Badakhshan, the remote Wakhan corridor in the Afghan Pamir is widely regarded as one of the most outstanding trekking areas in the world, and in recent years various agencies have sprung up offering tours, treks and walks in the area.
Use the navigation bar on the right to make direct contact with organisations and individuals working in the tourism sector.