Media - press
Media - press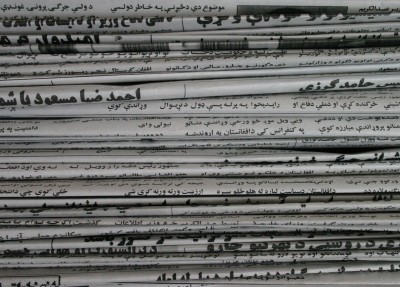 The first newspaper in Afghanistan, the
Morning Sun
, was published between 1873 and 1879, during the reign of Amir Sher Ali Khan, printed on a lithographic press set up for the purpose until the Second Anglo-Afghan War. In his series 'The Background and Beginning of the Afghan Press System' in the
Historical and Cultural Quarterly of the Historical Society of Afghanistan
, published in 12 parts between 1968 and 1972, Mohammad Kazem Ahang describes how:
'After 28 years of darkness, which had stretched from 1879 to 1906 A D, during which time no newspapers had been issued, a new "lamp" appeared. This was
Seraj-ul-Akhbar-i Afghanistan
, which began publication in on January 11, 1906 (15 Zeqadat-ul-Haram, 1323 H), with Maulawi Abdur Raoof Khan, teacher of the Royal Theological Faculty, as editor. However, as a result of the British intervention, the paper stopped publication after the appearance of its first issue, and it was not until almost six years later, in 1912, that
Seraj-ul-Akhbar
was revived – this time through the continuing efforts and requests of Mahmud Tarzi, who became its new publisher and editor'.
As well as providing news, the bi-weekly
Seraj ul-Akhbar
played an important educational role, with Tarzi being one of the key modernisers of his day. After its second year of publication, the paper was typeset instead of lithographed, and it continued to appear until 1919. In the following decade, the number of newspapers and periodicals published across the country rose to 23, including one for women. The first daily newspaper, entitled
Afghan
, appeared in Kabul in 1920. With low levels of literacy, and few publishing facilities, which were predominantly government-controlled, newspapers and journals also provided an outlet for literature, and by the 1950s, newspapers in Kabul had special Friday editions which included poetry and short stories.
In 1962 the
Ministry of Information and Culture
launched an official English-language newspaper, the
Kabul Times
. As well as domestic information, the
Kabul Times
included international news. The press flourished under the liberal Press Law of 1965, at least until the 1973
coup d'etat
and the formation of a republic, under which there was more control of opposition newspapers.
After the Soviet invasion in 1978, the government-owned press became a source of communist propaganda, and this was countered by
shabnama
or 'night letters' distributed by the formative mujahideen groups, urging resistance against the regime in Kabul. These
shabnama
were often copied by hand, and also took the form of posters and cartoons, which form an interesting record of the ideological battle that was under way for Afghan minds at that time. During the factional fighting, groups in Kabul continued to distribute
shabnama
, partly to incite ethnic tensions within the urban population. At this time, as during the subsequent Taliban administration, strict media laws controlled the output of newspapers published in the country, and there were restrictions on importation of foreign journals.
Since 2001, a number of privately-owned newspapers have been re-published or established, aimed mainly at an urban readership. Reportedly 2.5 out of every 100 Afghans read newspapers, for whom 27 daily newspapers and 48 weekly newspapers were published in 2010, mostly financed by international aid or political parties.
It was against this general background that in the section of the
Afghanistan National Development Strategy (ANDS) for 2007/8-2012/3
dealing with information and the press, the question of whether the printed press was a suitable medium for a population with low levels of literacy was raised, and stress was instead placed on the effectiveness of radio. The ANDS went on to recommend that 'the state-owned newspapers [
Anis Daily
,
Eslah Daily
,
Hewad Daily
,
Kabul Times
] must review their editorial policies and distribution to gain information efficiency and financial autonomy. Developments in broadcast and electronic technology mean that the Ministry will reconsider the need for state-run print media in the provinces".
Use the navigation bar on the right to make direct contact with organisations and individuals working in the press sector.